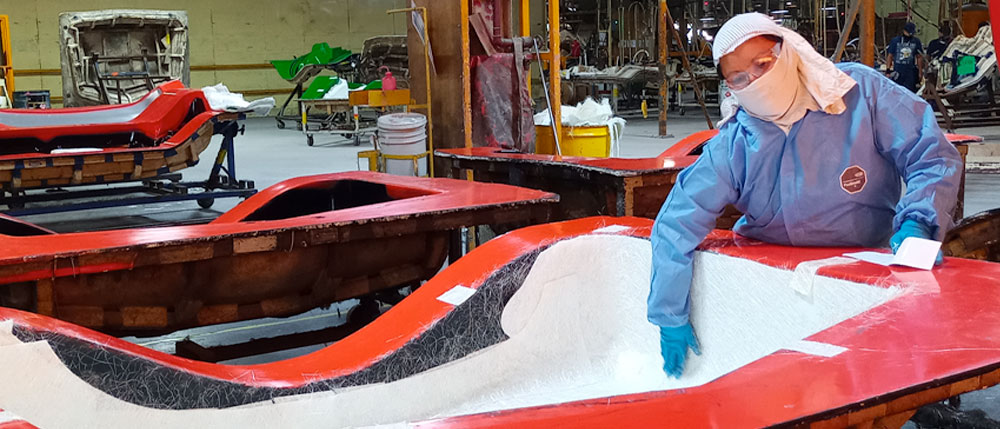 Hand lay-up is a molding process where manually placed chopped strand or woven fiberglass mat is combined with various resin formulations and applied to an open mold. Manual rolling of the open mold is then used to ensure even distribution of resin and to eliminate trapped air pockets.
Raw Material
Available resins include unsaturated polyester, vinyl ester and epoxy. Fiberglass can be of many types, including chopped strands or mats of e-glass or carbon fiber. Additional materials offered upon consultation.
Tooling
Typically, composite molds, which offer low cost and fast speed to market, excellent for prototyping. Tool lead times are typically 8 weeks or less, shorter than many other composite applications.
Finish
Fully-finished or paint-ready surfaces can be achieved by utilizing an appropriate gel coat during the molding process.
Ideal for Lower Volume Programs
Modest equipment and tooling requirements make the hand lay-up process ideal for prototypes and lower volume programs. It is often a process choice for one-off specialty products.
Low Cost Tooling
Hand lay-up molds may be produced from almost any material, including wood, composites and even plastics. The process uses only one mold (open mold), resulting in even lower tooling costs. Molds can be "splashed" off of another part or model of almost any material, further reducing their cost.
Faster Speed to Market
The nature of hand lay-up tooling allows very rapid product development. Molds can be produced in as little as 1-2 weeks for simple part geometries, and in less than 8 weeks for almost any part design.
Localized Material Properties
The placement of reinforcing fibers prior to resin application allows part performance to be locally optimized. Additional (or varied forms of) fiber can be precisely positioned in areas likely to experience high stress, for example.
Inquire with us about this process