Sustainability at CORE Molding
Our goal is to ensure our handprint exceeds our footprint through the positive impacts of our people and products.
For us, sustainability is about meeting the needs of the present while leaving the world a better place for the future. Sustainability is at the heart of our business, from the products we make to the way we make them. We're committed to considering the future in the decisions we make every day.
Core Molding Technologies has achieved a Bronze Rating for Sustainability in 2023. Learn more about EcoVadis and what this rating means for us.
Visit our Quality Commitment page for a copy of our certificate.
Our sustainability approach has three aspects:
Product and Process Sustainability
Environmental Sustainability
Social Sustainability
Product and Process Sustainability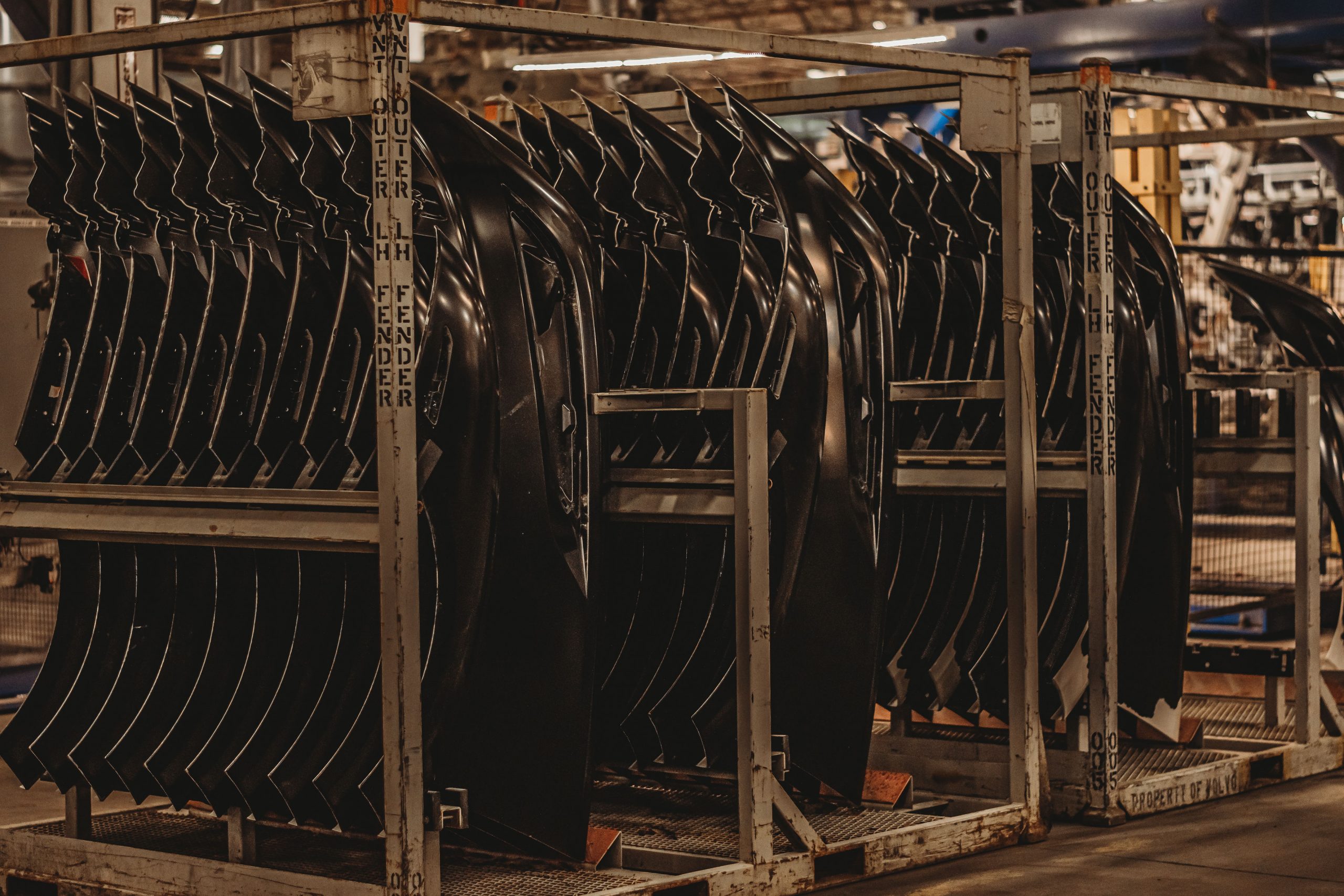 CORE Molding Technologies specializes in large-format moldings and offers a range of fiberglass processes including compression molding of SMC, GMT, D-LFT and BMC; spray-up, hand-lay-up, V-RTM and RIM, and the low-pressure injection molding processes of structural foam and structural web.
Sustainability is a key driver for our composite product research and development. Our materials development team continues to investigate the use of organic and renewable materials. We also incorporate natural fiber composites in our structural design and manufacturing processes, which help reduce synthetic material processing.
Not only are we researching alternative materials that reduce environmental impact, we're also working aggressively toward scrap reduction, reusability and utilizing recycled material from the use of recycled paper products and expendable packaging to our end products. Within our thermoplastics product line, we strive to use recycled material as an alternative to prime materials, stressing our desire to convert waste into useable products.
Environmental Sustainability
CORE's commitment to environmental sustainability is emphasized with our facilities being registered to the ISO 14001 Standard. This standard defines the requirements for an environmental management system by focusing on the systematic development of a process of continuous improvement. It focuses on efficient use of energy and raw materials, as well as waste minimization and risk prevention. Considering this standard, CORE commits to obtain, maintain and keep current all required environmental permits and registrations. All employees are required to comply with operational and reporting requirements. CORE supports a proactive approach to environmental challenges and encourages initiatives to promote environmental awareness and responsibility. CORE complies with all applicable environmental laws and regulations and will promptly develop and implement changes to correct any non-compliance issues as CORE is made aware.
Environmental Sustainability Projects:
Learn about CORE's effort to save coastal reefs using our structural foam plastic lattice:
Learn about CORE's effort to reduce Styrene consumption in SMC compounds:
Social Sustainability
Corporate Responsibility
CORE recognizes our social responsibility and commitment to our employees and to the communities in which we live and work. As an organization, CORE requires that our employees comply with all policies related to our corporate responsibilities and report any activities that may violate such policies and standards.
Health and Safety
Human Rights
Corruption and Ethics
Compliance
HEALTH & SAFETY
Our commitment is to provide a safe, secure, and healthy environment for all CORE employees.
We have occupational safety standards and industry best practices that each employee must follow. No achievement is worth sacrificing safety. We are continually reviewing our safety procedures to ensure they are up-to-date and effective. To help provide the safest environment possible, we ask that employees report all injuries, no matter how minor, including near misses even though no one was inured. We comply with all local, state, and federal laws that govern working hours, compensation, statutory leave, etc.
Violence of any kind is entirely unacceptable and will not be tolerated. Following simple guidelines, we can avoid violence all together. Be polite and respectful; report any behavior that threatens or harms anyone; never possess weapons, which include firearms, ammunition, explosives, or any other device, which is intended to be used as a weapon, while on Company property.
All Company properties are drug and alcohol free. Employees under the influence of drugs and/or alcohol are not only less likely to meet performance standards, they pose grave security and safety risks to their fellow employees and themselves. Therefore, our policy prohibits manufacturing, distributing, dispensing, possessing, or using illegal substances and/or being under the influence of alcohol while on Company premises, including Company vehicles, and while on Company business.
HUMAN RIGHTS
We pride ourselves on our commitment to the protection of Human Rights. We do not knowingly associate or do business with any individual or company that participates in any of the following: exploitation of children or child labor, physical punishment, forced, involuntary or compulsory labor, unlawful discrimination or human trafficking. Consequently, we choose business partners dedicated to the health and safety of their workers and who abide by these same core principles. We obey all local laws regarding minimum employment age and will not employ anyone under the age of 18 in our manufacturing facilities.
CORRUPTION & ETHICS
CORE expects the highest standards of integrity from our employees in all business interactions with a strict prohibition against all forms of corruption, extortion and embezzlement.
CORE will never pay, offer, promise, or authorize the payment, directly or indirectly, of any bribe or corrupt payment (in the form of money or anything of value) to anyone for the purpose of inducing or rewarding any favorable action or obtaining any improper advantage.
CORE maintains a process for employees to raise issues of concern in a confidential manner. CORE will ensure that the employee's concerns are addressed quickly and resolved satisfactorily.
COMPLIANCE
In all areas of CORE's business operations, employees must comply with all applicable laws, regulations and directives of the countries and regions in which the organization operates. Additionally, CORE will ensure that our employees receive adequate information and training in relation to all relevant legal, regulatory and internal requirements that apply to their jobs.
Our Sustainability Leadership:
Marshall Starr
Sustainability Leader
Marshall Starr joined the Company on October 22, 2018, and was appointed to the position of Sustainability Leader on March 15, 2022, after serving in leadership roles as Plant Director and Program Manager.  Prior to joining the company, Mr. Starr progressed through maintenance, engineering, and operational roles for Coca-Cola North America, General Electric, Owens-Illinois Glass, and TRW Automotive.  Mr. Starr is a certified Project Management Professional from PMI and is a Registered Environmental Manager from NREP.  Mr. Starr earned his Master's degree in Business Administration from the Jack Welch Management Institute, where he was a Welch Scholar graduating with honors, and also proudly served in the United States Air Force.